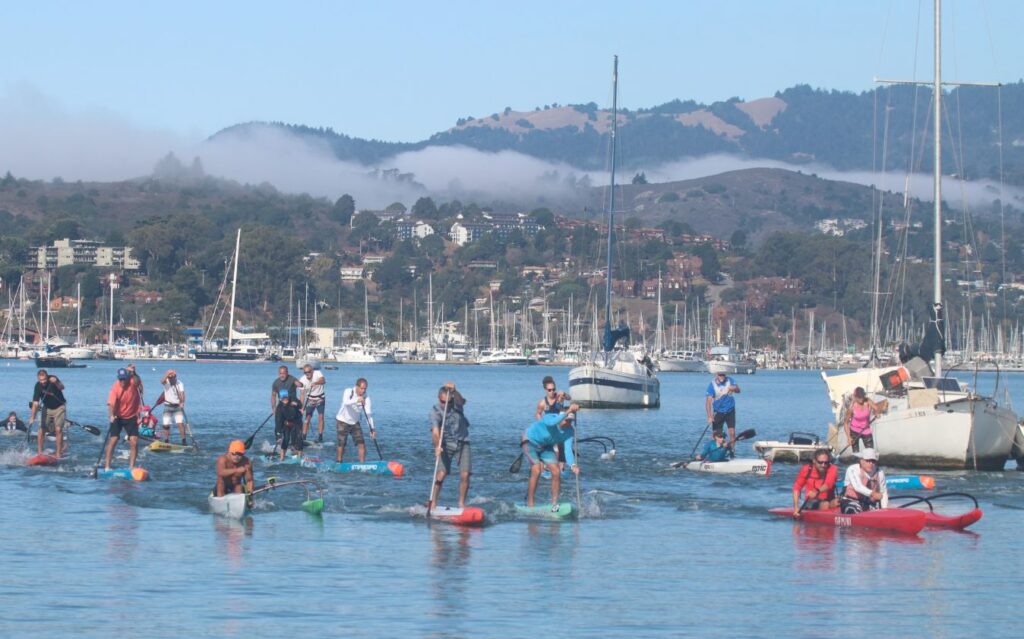 It was all blue skies and Blue Angels for the 10th Annual Battle of the Bay paddle race. The weather gods once again smiled upon us with near-perfect conditions for racing. While the day dawned crisp by the time the starting gun went off the was the sun was shining and nary a zephyr was moving over the water.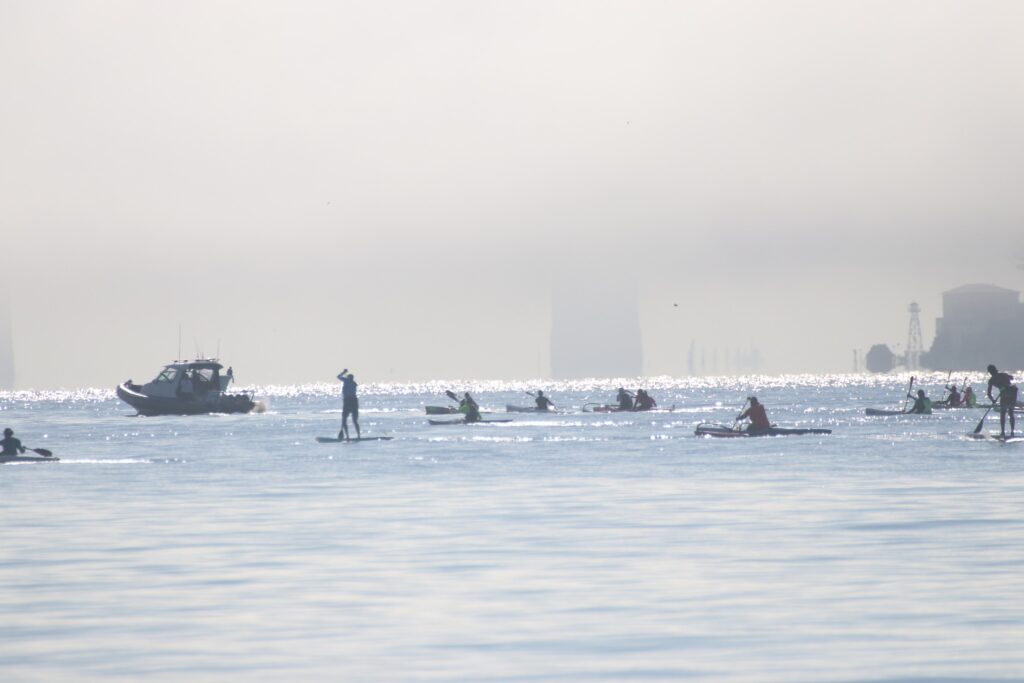 Race headquarters for the day was Sausalito's Dunphy Park and it proved to be a perfect venue for paddle racing. With fog lapping at the Marin headlands behind us, and completely engulfing the city of San Francisco around us, it was like arms of gray mist hugging the race course.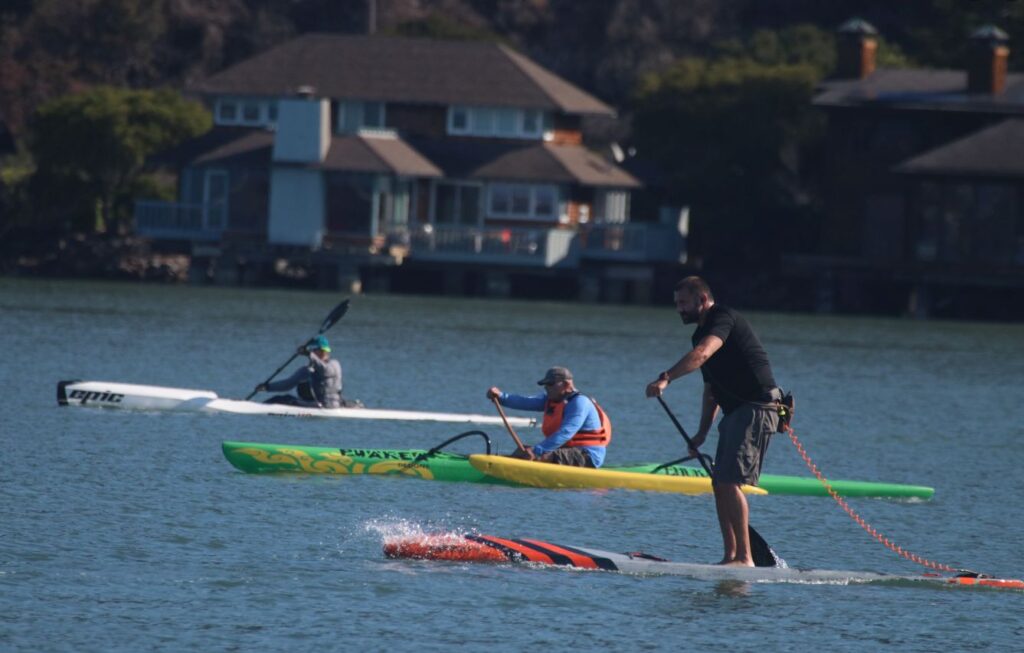 It had been a 2-year COVID hiatus for everyone and it made for the vibe of a family reunion. Reconnecting with the community really felt like we were rounding the buoy toward better days ahead. Racing action on the day centered on Richardson bay with courses set in 8 and 4-mile distances with an emphasis on staying clear of the armada of vessels heading to see the Blue Angels airshow scheduled to start right after racing. With outrigger canoes, prone paddleboards, surfski, kayaks, stand Up paddleboards, and a record number of inflatable paddleboards this was one race that celebrated diversity.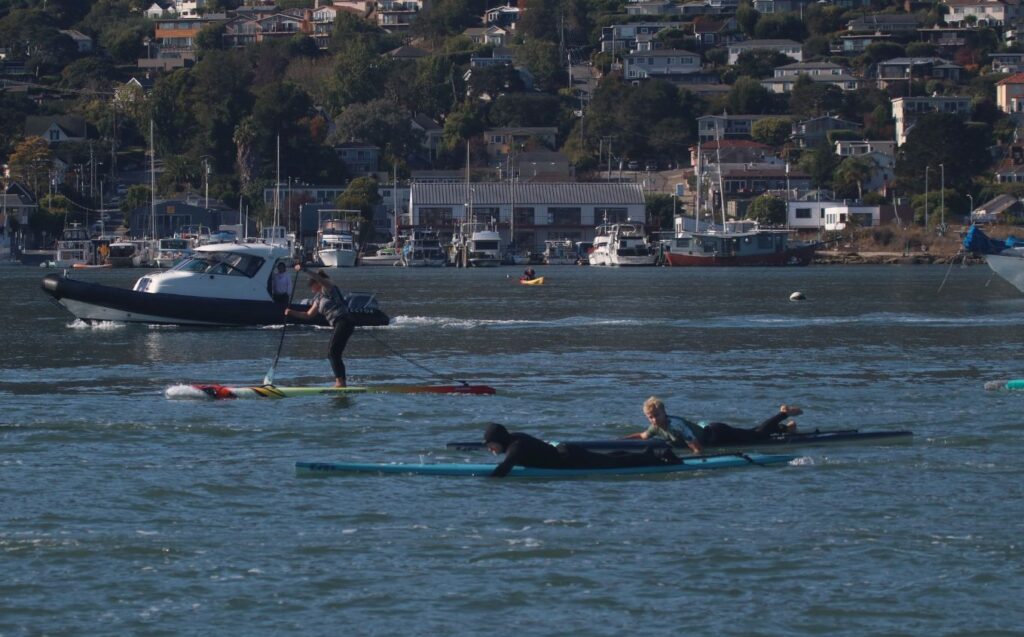 Racing started with one mass start and a staggered course had both short and long courses sharing quite a bit of water time together. This also made for some interesting finishes with both courses arriving to the line at a similar time. To spice up the finish our inflatable arch sprung a leak creating limbo-like experience in crossing the line.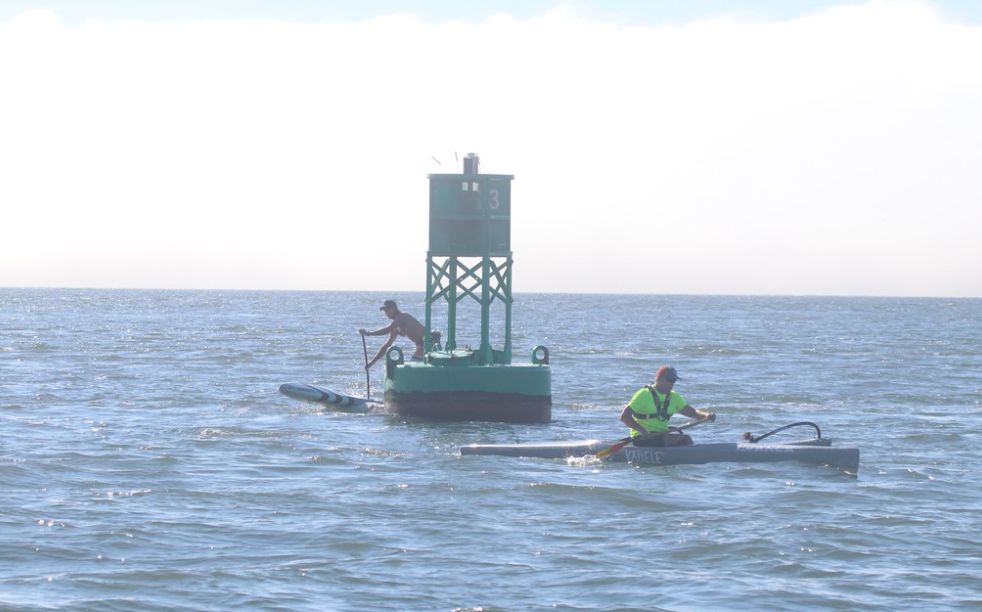 Events like these are impossible without the support of quite a few people and we have a lot of gratitude to share for all who pitched in. First up is our sponsors. Supporting the businesses that support our support is the flywheel of a vibrant community. Kevin Krohn from Starboard not only title sponsored the event his help on finish line scoring was critical. Kristin Thomas and Infinity SUP were joined by Bluerush SUP to round out primary benefactors. As they say though it takes a village and we could not have raced without the boat support from Mike Wang at Mike's Paddle who drove all the way from Alameda to keep us safe. Seatrek did likewise with their Boston Whaler and with the Protector from Bluerush joining in it was a well-cared for fleet. Thanks as well to Hideaway Properties, 2B Paddles, 101 Surf Sports for helping pitch in. A special nod of thanks to Jen Fuller and Fuller fitness not only for the help on race day but also for hosting the opening day party. Thanks to all the volunteers who pitched in with an extra bit of love for Mira and Annie with help during registration and scoring. Gratitude goes out to John Hadley for his help in planning as well as running the show all day on the mic. Last but not least the spirit of this event is emanating from Step Pugh's desire to see a community built around sharing our love for being on the water – however you want to do it.
Thanks as well to those I forgot to thank. You know who you are. See you next year and thanks for racing!
PS – that stands for Post Surf and that's just what we did Sunday at the apres racing surf sesh. If you are racing next year remember to bring your surf gear as we will surely be surfing again next year.
Check out this video of Sunday Surf Day